CONTROLLER OF EXAMINATION
Prof .C.Sunitha, MCA., M.Phil., has 20 years of teaching experience. She has presented more than 35 research papers and published 21 research articles in National and International journals. She received the "Best Women Faculty Award" for the year 2011 and compiled a book titled 'COBOL Programming'. Her area of research is Speech Recognition. She is the Department Head for BCA & M.Sc. SS Department and has organized several National conferences, seminars, guest lectures, workshops and outreach programmes. She is a Life Member of Computer Society of India (CSI), Coimbatore Chapter, The Indian Science Congress Association (ISCA) and Indian Society of Systems for Science and Engineering (ISSE).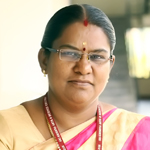 07-JULY-2017
UG Students of 2011, 2012, 2013 and 2014 Autonomous batches will have their Semester V Part A – Arrear - End Semester Examination on 27th and 28th July 2017.
Students having arrear in Semester V Part A have to pay the Arrear Examination Fees and submit the Arrear Application form to the Controller Section on or before 22-07-2017 (Saturday).
Last date for payment of Arrear Fees is 22-07-2017 (Saturday).
Semester V Part A – Arrear/Regular – End Semester Examination Timetable will be released on 08-07-2017 (Saturday).
12-JUNE-2017
Passed out Students - Revaluation Results - April 2017 will be published today by 5 p.m.
31-MAY-2017
FOR 2014 UG, 2015 PG AND 2012 M.Sc SS STUDENTS
Transparency Procedure will be held in the Library @ 11.00 a.m.
02-06-2017 (Friday)
Last date for applying for Revaluation
06-06-2017 (Tuesday)
FOR 2015/2016 UG, 2016 PG AND M.Sc SS STUDENTS (Except 2012 Batch)
Transparency Procedure will be held in the Library @ 11.00 a.m.
09-06-2017 (Friday)
Last date for applying for Revaluation
13-06-2017 (Tuesday)
SUPPLEMENTARY EXAMINATION RESULT – JUNE 2017
Semester V - Part A Time Table for 2015/2014/2013/2012/2011 Batch UG Students
24-MAY-2017
The result can be viewed in the following websites: