CONTROLLER OF EXAMINATION
Prof .C.Sunitha, MCA., M.Phil., has 15 years of teaching experience. She has presented more than 25 research papers and published 10 research articles in National and International journals. She received the "Best Women Faculty Award" for the year 2011 and compiled a book titled 'COBOL Programming'. Her area of research is Speech Recognition. She is the Department Head for BCA & M.Sc. SS Department and has organized several National conferences, seminars, guest lectures, workshops and outreach programmes. She is a Life Member of Computer Society of India (CSI), Coimbatore Chapter and The Indian Science Congress Association (ISCA).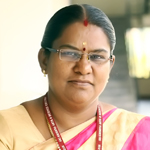 EXAM POSTPONED DETAILS
To All,
The End Semester Examinations to be held on 25-4-2017 (AN) has been postponed to 27-4-2017 (AN). The postponed Timetable is enclosed.
Regular End Semester Examination ​Timetable for the UG and PG Students
I and II Semester Arrear Examination Timetable for 2015/2014/2013/2012/2011 batch UG Students, April 2017
SNO
BATCH
DEGREE
SEMESTER
TIME TABLE FILE
1
2016
UG
SEM I & II
DOWNLOAD
2
2015
UG
SEM IV
DOWNLOAD
3
2014
UG
SEM VI
DOWNLOAD
4
2016
PG
SEM II
DOWNLOAD
5
2015
PG
SEM IV
DOWNLOAD
6
2016
M.Sc. SS
SEM II
DOWNLOAD
7
2015
M.Sc. SS
SEM IV
DOWNLOAD
8
2014
M.Sc. SS
SEM VI
DOWNLOAD
9
2013
M.Sc. SS
SEM VIII
DOWNLOAD
10
2015/14/13/12/11
UG
SEM I
DOWNLOAD
11
2015/14/13/12/11
UG
SEM II
DOWNLOAD
12
2016
BBA CA (Clayton)
SEM II
DOWNLOAD
13
2016
BBA CA (Clayton)
SEM I
DOWNLOAD
09-MAY-2017
Online Arrear Examination (Second Chance) for 2014/2013/2012/2011 Batch UG Students will be held on 17-05-2017 (Wednesday).
The Schedule and the List of students will be available in a Separate tab "Online Test - Second Chance - May 2017"
Note :
The students who are appearing for the Second Chance have to pay a fees of Rs. 500 on or before 15-5-2017(Monday) without fail.
24-MAY-2017
The Autonomous Examination results of Sri Krishna Arts and Science College for the Examination held during March / April 2017 is being released on 24.05.2017 (Wednesday) at 5.00 pm for all UG and PG Programmes except 2016 UG. For 2016 UG Programmes, the results will be available on 29.05.2017 (Monday) by 10 a.m.
The result can be viewed in the following websites: